As I mentioned in my Thanksgiving post a few days ago, being vegetarian, people often ask what I eat at the holidays. I really do love Thanksgiving…especially classic dishes that have been updated a bit. If I have green bean casserole on my table, you can be sure I fried those onions myself and the sauce didn't come from a Campbell's soup can. But, I must say that I do love the ubiquitous flavors of Thanksgiving: sage, butter, winter squash, mashed potatoes, cranberries, mushrooms, sweet potatoes…I'm not one to throw that all to the wind and do cheese enchiladas come the last Thursday of November.
One of my favorite dishes to make that is satisfying, has classic American Thanksgiving flavors, and incorporates more veggies into a usually very heavy meal, is stuffed winter squash. I make it all from scratch (although I don't make my own bread, necessarily, that still counts, right?). I like to use delicata squash because they tend to be sweet, and have a large cavity, perfect for stuffing. They are cylindrical and are usually yellow with orange or green stripes. Sometimes they are white with orange or green stripes.
The stuffed squash can accompany other dishes in a more traditional (ie: meat based) meal, or be the center of a vegetarian holiday. So, for this dish, I just used the flavors I like on Thanksgiving. Feel free to experiment with different nuts, squash, veggies, maybe leeks…maybe dried cranberries. And, you can totally go to town with the bread. I used a rosemary potato bread one year, you could use a kalamata olive or walnut bread for something unusual, or go with corn bread.
Just make sure that the bread is quite stale before you use it, so it will soak up the flavorful stock. You can cube the bread a day or two in advance, so it has time to dry out. This recipe is sort of free-style and I used what I had, and quantities that looked right to me. Feel free to go in your own direction, or stick to my instructions exactly. It's your taste buds you want to excite. But, please incorporate as much organic/local/sustainable foods into your holiday dishes as you can. Your body, and the planet will have something more to be thankful for.
Depending on what else you are serving, this recipe will serve 4-8. Also, the size of your squash and their filling capacity determine how much stuffing you need. With these proportions, I could have filled 2 or 3 more delicata halves, so I would just throw the remainder in a baking dish and bake it alongside the filled squash.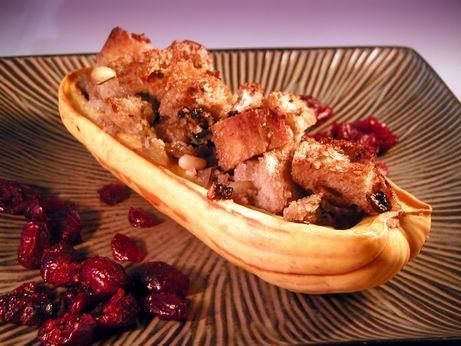 Stuffed Delicata Squash Recipe
INGREDIENTS:
4 delicata squash (of similar size to each other), sliced in half, lengthwise, with seeds and stringy guts scooped out
8 cups good chewy flavorful sourdough bread, cubed into bite sized pieces
olive oil for sauteing
1 large onion, diced
2-3 celery stalks, diced
8 oz. mushrooms (I like brown cremini), chopped
1/4 c. finely chopped herbs (parsley, sage, rosemary and thyme have a nice ring to them)
1 1/2 c. veggie stock (I love Pacific Organic Mushroom Broth the best)
1/4 c. pine nuts (you can toast them beforehand, if you like)
salt and pepper to taste
butter (you could use olive oil instead for a totally vegan dish)

INSTRUCTIONS:
Put bread cubes in a large bowl and pour stock over them.
Sauté onion and celery until nicely caramelized (about 10 minutes). Add mushrooms and let them sauté and reduce another 5 minutes or so. Turn off the heat. Add the herbs to the veggies (I can hear Simon and Garfunkel now…). Salt and pepper the veggies, but be cautious with the salt since most vegetable stocks tend to be quite salty.
Mix the bread and veggies all together and taste for seasoning and moisture of the bread. If you have to add more stock, or salt, or herbs, go ahead.
Put the squash halves in one large, or two smaller baking dishes and put a couple little pats of butter and a little salt in each half (this is your only time to season the squash directly). Fill the squash with the bread and veggie mixture, and put about an inch or so of water (carefully) in the bottom of the baking pan(s).
Cover with foil and bake 30 minutes to soften the squash. Take the foil off and bake another 30 minutes to finish the squash and crisp the bread on top. After they have baked a total of about an hour, test the squash with a fork and see if it's tender. If not, bake another 10-20 minutes. The thickness of the squash flesh can vary, and will determine how long to bake them. Serve with a little pat of butter on top, or mushroom gravy, or fresh cranberry sauce. YUM!