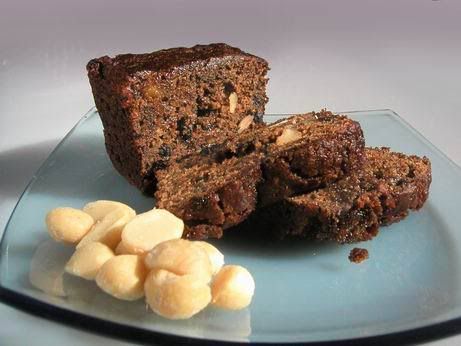 Marc and I grew up with the typical hippy-chow of the '80s: tahini, goat milk, natural peanut butter that separates from it's oil and gets dry and chalky at the bottom, spirulina, carob (I'm sorry, I don't care how healthy it is, it's SO NOT chocolate), tempeh, and wheat grass juice. Some of those things I enjoy now, some have been improved upon, and some thankfully went out of fashion with Cabbage Patch Dolls and Care Bears.
We eat a lot of fresh veggies and fruit, and some meat substitutes, but we both have a rather sophisticated palate. I love good cheeses, and French pastry, and practically squeal in delight when a fine restaurant says they make their risotto du jour with vegetable stock.
So, being a regular consumer at health food stores I'm often skeptical of the raw, nut paste, just-discovered-cure-all-antioxidant-exotic-panacea, bar labeled with "New Improved Flavor". I've tried and been disappointed by too many of them. But, just because something is a cliché (like a sunset walk on a Hawaiian beach), doesn't mean it can't also be amazing and wonderful.
What's all this leading to, you ask? Healthy food has to taste good! We must derive pleasure from the food we eat, otherwise, why are we eating it? What drudgery would it be, to force feed yourself a bunch of things you hate, in the name of eating healthy?! I'm sure I could adjust my diet here and there to hone in on more things that are "better" for me, but I do my best, and live as cleanly as I can while still totally enjoying the foods I eat.
Which bring us to quick breads. For a few years I've been making and experimenting with baked quick breads. Since you don't need to wait for yeast to rise, they are simple, and live up to their name…quick. I don't like dense-as-a-brick breads, but I do like some substance.
This banana bread is moist and has a slightly denser texture, but tastes like you are really getting away with some decadence. But, it's chock full of goodness. Bananas, with their potassium and unrefined sweetness. Molasses and it's earthy sweetness, loaded with iron. Flax seeds, which are one of the few vegetarian sources of omega-3 fatty acids and lots of fiber, add a subtle nuttiness.
Coconut oil is a powerhouse of anti-microbial medium chain triglycerides, that are easy to digest and don't require insulin to metabolize…as well as perfuming the whole house like some tropical beach somewhere. Macadamia nuts have similar beneficial properties, as well as helping to lower bad cholesterol. The almond meal is something I use often in baking for more protein, fiber, and the smell of marzipan. And, of course, for years we've been hearing about the powerful benefits of antioxidants found in blueberries, plus, they are just so tasty.
Where else can you get all these extraordinary nutrients jam packed into something so delicious? So, give it a try, or use walnuts and cranberries instead, or pistachios and cherries…whatever you have in your pantry. You could switch out the coconut oil for butter, but it's just not as fun. Also, if you wanted a vegan bread, you could use the equivalent in egg replacer. This quick bread is delicious with some whipped cream and fruit for dessert, and is a hearty breakfast served with a little yogurt on the side. In the interest of your personal health, and that of the planet, please use as many organic/sustainable/local ingredients as possible.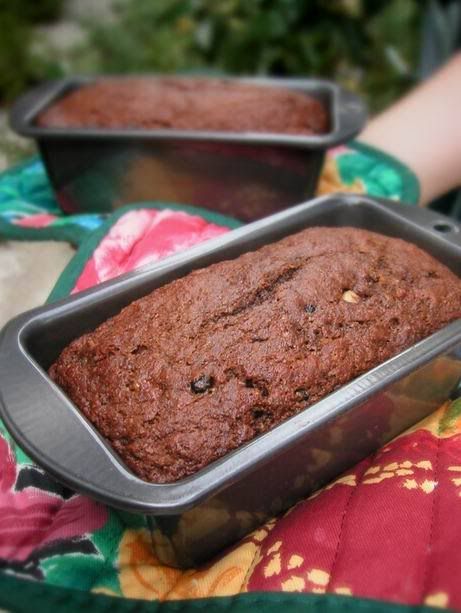 Tropical Banana Bread
1 1/2 cups whole wheat pastry flour (which gives a lighter texture than regular whole wheat)
1/4 cup flax seeds, freshly ground (they go rancid more quickly if you buy them pre-ground, a coffee grinder works great)
1/4 cup ground almond meal (Trader Joe's sells it, or you can just grind your own)
1 teaspoon baking soda
1/4 teaspoon salt
1/2 cup unrefined coconut oil
3/4 cup brown sugar
2 eggs, beaten (or replacement equivalent)
2 cups mashed overripe bananas (about three medium to large bananas)
1/4 to 1/3 cup molasses (depending on how much banana you ended up with)
1/2 cup dried blueberries (you could also use currants)
1/2 cup macadamia nuts, coarsely chopped
Preheat oven to 350 degrees F (175 degrees C). Lightly grease a 9×5 inch loaf pan (if you want to make muffins or mini loaves, cut the baking time in about half).
In a large bowl, combine flours, baking soda and salt. In a separate bowl, cream together coconut oil and brown sugar. Stir in eggs (or equivalent) and mashed bananas until well blended. Add in blueberries and macadamia nuts. Stir banana mixture into flour mixture; stir just to moisten since you don't want to develop the gluten in the flour (gluten makes it chewier rather than tender). Pour batter into prepared loaf or muffin pan.
Bake in preheated oven for 60 to 65 minutes, until a toothpick inserted into center of the loaf comes out clean, but still a little moist. Let bread cool in pan for 10 minutes, then turn out onto a wire rack.
I made three little mini loaves of this the other day and the house smelled incredible. I kept one for us, sent one to a dear friend as a housewarming gift, and brought another to a friend we visited. The bread was well received. Enjoy!