My internet connection has been intermittently down all week, and I neglected my posting duties. So, rather than writing, we took some hikes, (it was gorgeous…sunny and 65) and I diligently worked on perfecting this pudding. Someone had to do it…and oh, the suffering…waiting by the fridge for the pudding to set…digging into spoonful after luscious spoonful, contemplating whether there was enough cardamom…and finally the perfect ratio of vanilla bean to cardamom just in time for a much-anticipated dinner with a long-time friend and her new sweetheart.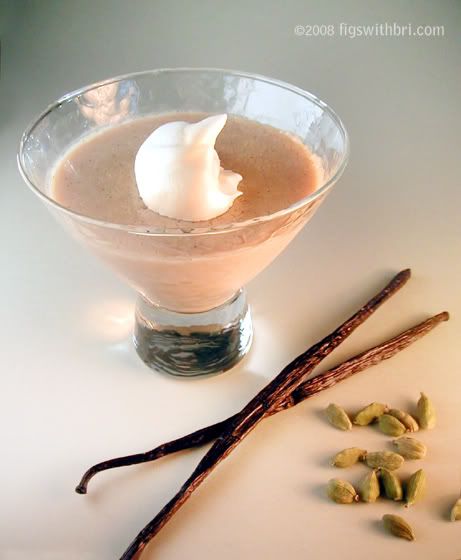 Can you see the vanilla flecks in there?
Recently, Jennifer inspired me with her homemade butterscotch pudding. Until now, my experience of homemade pudding consisted of some temperamental tapioca and of course, the dubious stuff out of the box. I'd never made a cornstarch thickened pudding from scratch. Since the ingredients are sugar, cornstarch, and some sort of flavorings (vanilla, or cocoa powder, or spices), and you just add milk…why would I make it from a box?! It's so simple! With only a few minutes active work, and some time to chill in the fridge, you have a ridiculously easy (almost idiot-proof) treat without any artificial junk. Plus it's as velvety and delicious as it is easy to make.
Homemade pudding is so painless and uncomplicated with infinite possible variations, I'll make sure to have these staples around for unexpected guests and larger retreat catering jobs. I've made this a few (four) times to get the flavorings just right. Vanilla and cardamom have never been so happy together, than in this silky confection.
Cardamom has become our new favorite sweet spice. I enjoy it very much in savory Indian dishes, but in the last two or three years, I have developed a whole new appreciation for it's heady contribution to everything from apple crisp to now, pudding. Where I used to use cinnamon (which has become…almost pedestrian) I now experiment with cardamom.
Using the whole vanilla bean rather than just extract lends an intense depth of flavor. This particular combination of a half vanilla bean and four cardamom pods (for four servings) is perfectly spiced for me. Both flavors come though clearly without being overpowering. It's another one of these great recipes that are easy and wonderful for a classic dessert, or an exceptional one to really wow dinner guests. It brings out the kid in all of us.
As a little reminder, whenever you make a recipe that has only a few ingredients, it's important to make sure they are high quality and fresh. Often, cheap brown sugar is just white sugar with brown coloring (not optimal). Real brown sugar still has the incredible flavor and minerals of molasses and will take your pudding in a richer butterscotchy direction.
The cardamom should reach out and grab you when you open the container, and the vanilla bean should be supple and practically oozing it's deceptively tiny black seeds. Also, with the prevalence of genetically modified corn, I suggest you find corn starch that isn't. As always, I recommend using as many local/organic/sustainable ingredients as possible.
Vanilla Bean Cardamom Pudding (makes 4 servings)
2 C. whole milk
4 whole green cardamom pods
1/2 a vanilla bean
1/3 C. packed brown sugar
3 Tbs. corn starch
scant pinch of salt (to heighten and bring together all the flavors)
It is an easy recipe, but you do need to be watchful that you don't scorch the pudding. To take out a little insurance, I recommend a heavy bottom saucepan and lowish heat.
Using your fingers, crack and pry open the green cardamom pods and drop them into the pan. Take your half vanilla bean and slice it all the way down lengthwise to expose the gorgeous black seeds. Scrape them into the pan, and drop the bean itself in as well. The whole thing will infuse flavor, but you need to release the seeds.
Pour in the milk, and stirring, turn the heat on medium-low. Within about 5 minutes, the milk/cardamom/vanilla mixture will be hot and tiny bubbles will form around the edge of the pan. Turn off the heat, put the lid on and let the spices steep in the hot milk for about 10 minutes.
Strain the milk into another vessel to remove the little black cardamom seeds, green pods, and 1/2 vanilla bean. You'll still have plenty of little vanilla seeds, and they just add character. Put the brown sugar, corn starch and salt in the saucepan, and whisk in the flavored milk.
Turn the heat back on to medium-low, whisking gently and consistently, but not frothing. In about five minutes, the mixture will go from milk consistency to thicker, closer-to-pudding consistency. At this point, turn off the heat. Divy the pudding into individual fun servings or one big bowl. Chill in the fridge until cold and set, at least 2-3 hours. You can happily eat it unadorned, but it's truly luxurious with a dollop of fresh whipped cream with a little vanilla extract and sweetened with agave syrup or sugar. It really elevates a familiar kid treat, that you could proudly serve anyone. Yum!
A footnote about buying spices. Most of the time I buy spices in bulk. They are fresher, often organic, save on packaging since I just refill an old jar, and I can buy just the quantity I want. When I am in the mood to buy a lot of spices and dried herbs at once, or get mixes I just can't buy locally, I always buy from Penzeys. They are a family run company, specializing in spices and herbs. They have a wonderfully informative catalog with recipes submitted by customers and history and geography lessons. Their prices are very reasonable for such high quality, so I highly recommend them. I just wish they sold organic versions as well.