Recently we rediscovered Vik's Chaat Corner in Berkeley CA. What a great place to find authentic chaat (small plates of savory Indian snacks) in the Bay Area. A friend took Marc and me there 10 or 12 years ago, and just this weekend (on a great culinary adventure) my aunt took us again. They have delicious puris (flat breads often topped with spiced veggies or legumes and tamarind or mint chutney) and my husband's all time favorite: dosas.
Dosas are South Indian crepes usually made with lentil flour. They come rolled up like a giant burrito with savory fillings. Vik's has several dosas including the typical (but, oh so good!) Masala Dosa filled with potatoes, onions and chilis and spiced with turmeric and cumin. I could eat dosa every week, given the chance. But not every restaurant features them, so they can be hard to find. The batter comes out crispy, a little sour, and totally fun to eat. It's a great meal for all senses.
Vik's also has a giant glass case of colorful Indian sweets. Milk, coconut, ghee (clarified butter), sugar and flour are the main ingredients, but some of them are golden with saffron or even bright pink. We bought four delicious pieces of different sweets, but it was so hard to choose among the dozens of varieties. We shared them with my in-laws to rave reviews. The hot chai (spiced milky black tea) was incredibly delicious and fragrant. The cardamom almost seemed to reach out and grab you from the cup.
Indian food is some of the most complex cuisines in the world. Sometimes I find it too heavy, but the people at Vik's Chaat Corner create wonderful light fare, great for sharing with friends. They recently extended their hours on weekends and evenings, so now there are even more chances to get my dosa fix.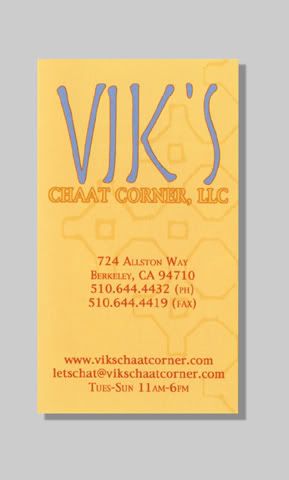 Vik's Chaat Corner is located at:
724 Allston Way
Berkeley, CA 94710
510-644-4432
http://www.vikschaatcorner.com/index.htm