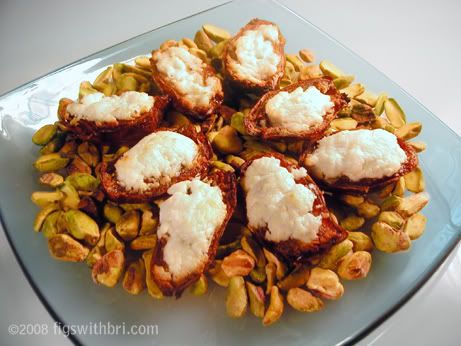 Date halves filled with goat cheese, toasted, served on a bed of pistachios
What did you think I meant? 😉
This is one of my favorite hors d'ouvres. With only two easily available ingredients a toaster oven (or real oven) and knife as required tools, goat cheese and dates are a simple and delicious treat for a party (or any excuse to make them).
One Thanksgiving, my stepsister made up a bunch of these, and I was hooked. The tangy tart richness of the goat cheese plays so well with the ambrosial chewy dates. There are tons of varieties of goat cheese, and hundreds of date cultivars grown around the world. Of course, you can use whatever you like, but I have some suggestions.
Some dairies make very goaty cheeses, I find too strong…especially in this sweeter application. So, I tend to use a milder (preferably local and organic) less goaty cheese. As for the dates (desert candy is the middle eastern moniker), I've only tasted a few kinds. The plump Medjool is my hands-down favorite. With their succulent, complex flavor of caramel and honey, it's no wonder they were once known as "king of dates" reserved for Moroccan royalty. Deglets are also pretty common in California, but being dryer and smaller, I find them inferior.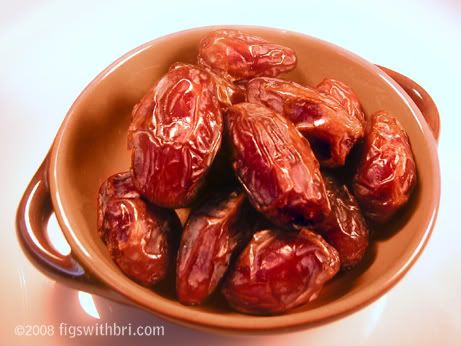 Just look how plump and succulent these Medjool dates are
This dish is so satisfying with such intensity of flavor, that you can really only eat a few. (And with finger foods being generally more labor intensive, that's a good thing). But these are so quick and easy, you can have a huge tray ready as guests arrive for a little something to whet their appetite. I just realized that with some toasted walnuts, these would be wonderful atop a big mixed greens salad as well (a little tat soi, arugula and baby lettuces would be perfect). Yum!
The recipe is super straightforward, just make it in whatever quantity you need, preferably with sustainable/local/organic ingredients.
Goat Cheese and Dates Hors d'ouvres

goat cheese (mild, not too goaty)
dates (plump Medjools are the best option in the US)

Cut the dates in half lengthwise, discarding the pit.
Fill each date half with maybe a half to one teaspoon goat cheese.
Make as many as you like, putting them on the tray that comes with your toaster oven (if you are just making a few), or on a cookie sheet in your oven. In the toaster oven, I toast them for 2 cycles, until the cheese is soft and just showing a little golden color. In the oven, maybe 5 minutes at 350 degrees. Be sure not to walk away from them because the high sugar content of the dates can make them burn before you know it. You just want the cheese to brown slightly, before the dates go too far. Super easy, and you'll see…super satisfying. I think it would be great even for a dorm party, or in a situation where someone needs to entertain in a small space, since it doesn't require much equipment, time or expertise. Enjoy!