However you write it, the ancestor of the grapefruit, and perhaps all citrus, sure is tasty. A couple weeks ago, I bought a King Kong caliber yellow (for the sake of standardization here) pomelo with gorgeous bright pink flesh from my local farmers market. I only bought one, to put in my beet and citrus salad.
It was so sweet, juicy and mild, that last weekend I decided to buy a couple more to enjoy out of hand. Just look at the size of this thing. I am an average sized woman with normal sized hands. Seriously, I'm not a dwarf.
I should have broken out my tape measure, but alas, didn't think of it. Putting it in the fruit basket that normally holds, oh, a dozen oranges or apples was straining to contain just two of the three pomelos we bought. It's practically Jurassic.
It looks silly next to a regular ol' orange the way that an ostrich egg is totally absurd next to a chicken egg. It takes some real muscle to get into it (maybe because I could hardly get a good grip on it with my woefully inadequate baby-hands) but after working at it a while, I managed to breach the skin and inch or three of soft pink pith.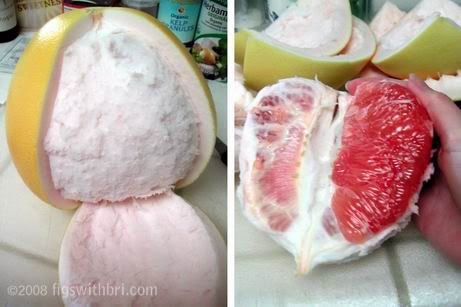 The hint of girly-girl in me loves that the pith is light pink
The porous pith between the skin and juicy edible morsels is quite spongy and would make a great cotton batting substitute if you had a yen to do some quilting part way through peeling. The membrane between each segment is pretty tough and tears off in big pieces so you are just left with the fabulously delicious vesicles (yes, vesicles. apparently meaning: small liquid filled sacs). Appropriate, I thought.
Impressive single segment, huh?
Three of us delightfully split one fruit, and Marc and I were amazed that his mom polished off a whole one herself. At the farmers market, our local vendor sells each one for $2, or three for $5, so I couldn't help but buy three of them. Keep your eyes peeled for them in your area. I had been unimpressed with varieties that had yellow or white pulp, but these pink ones are really worth seeking out. Marc and I both agreed it was possibly the best grapefruit (for comparison) we'd ever eaten.
My 17 year old self with a truck-load of Texas grapefruit
And I've eaten my fair share of grapefruit. For a high school fundraiser to go to Mexico with Amigos de las Americas, I had to sell (and…um…sample) several thousand dollars worth of Texas ruby red grapefruit. Believe me, that's a lot of grapefruit. You'd think it would have ruined grapefruit for me for life, but it actually just sealed in a deep appreciation for the sweet-tart citrus. Once we had two humongous pomelos worth of peel sitting on the counter, I thought it would be fun to candy it. At almost two bucks a pop, I thought I'd stretch it as far as the fruit would go.